Earn a Bachelors of Science Degree in Business on Saturdays - Informational Session April 22, 2015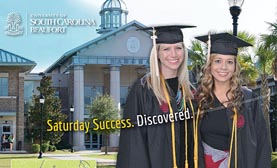 BLUFFTON, SC (April 2, 2015) –
The University of South Carolina Beaufort (USCB) will be holding an informational session for its
Saturday
Business Degree
program on
April 22, 2015 at 6 p.m., in Room 123 in the Science and Technology Building on the University's Hilton Head Gateway Campus located in Bluffton, SC.
The program offers individuals and nontraditional students additional access and convenience by offering Saturday classes. Students who complete the program earn a Bachelors of Science degree in Business Administration from USCB, which is an accredited four-year public university.
The Saturday Business Degree option is geared towards individuals who might have work and family obligations during the week but want to finish their degree. To qualify for consideration, students must have prior college level courses completed and meet the admissions requirements of the University.

The program fosters engagement and encourages adult learners to share their real-world experiences through highly interactive classroom sessions. Students advance from class to class as a cohort, and can earn a bachelor's degree in less than two years, although many progress at their own pace.
"The program was developed to give an additional level of access to individuals wanting to earn a Business degree," says Dr. Peter E. Swift, a senior instructor of Business Management and coordinator of the Saturday Business Degree Plan. "With its complete-business management approach, the curriculum emphasizes leadership, business operations, ethics, social responsibility and strategic thinking. The course of study focuses on key business functions such as marketing, finance and operations, and fosters a better understanding of crucial management issues—leadership, human resources, innovation and strategic management."
With one of the lowest tuition rates in the region, USCB offers in-state tuition to Georgia residents who live in the Savannah area (Chatham, Effingham, and Bryan counties). The University also works with members and veterans of the military to accommodate their needs.
For more information on the Saturday Business Degree Plan, visit:
www.uscb.edu/saturdaybusinessdegree
. If you have questions or would like to RSVP for the informational session, please contact Dr. Peter Swift at: (843) 208-8213 or write
swiftp@uscb.edu
.
###
ABOUT USCB:
Located in the heart of the Carolina Sea Islands, the University of South Carolina Beaufort (USCB) is a baccalaureate member of the University of South Carolina system serving the southeast coast of Georgia and South Carolina. Since 2002, USCB has more than doubled its academic degree programs and its full time equivalent student population, added on-campus housing serving 565, joined the NAIA Sun Conference, and fielded conference and national award winning Sand Shark athletes in nine sports. The university's two campuses serve a diverse student body of 1,822 students. The Hilton Head Gateway campus in Bluffton, S.C., offers cutting-edge Computational Science and Nursing laboratories and is the home to Sand Shark athletics. The Historic Beaufort campus, located on Beaufort's downtown waterfront, houses an innovative baccalaureate Studio Art program in close proximity to Beaufort's many art galleries. USCB offers students an exceptional place to learn and live in an environment focused on growth, preservation and opportunity. For more information about the University of South Carolina Beaufort, please visit www.uscb.edu online or call the university's Office of Public Information at 843-208-8030.