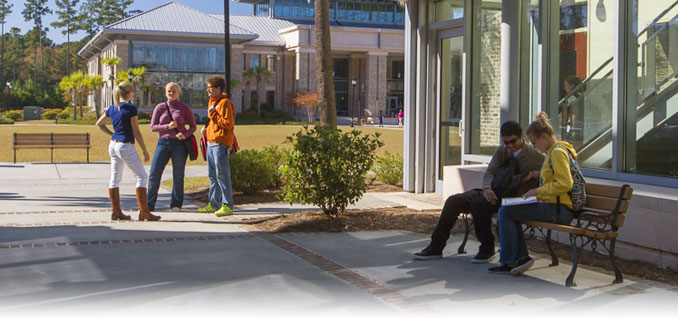 Gamma Beta Phi (Honor Society)
Gamma Beta Phi is USCB's official scholarship society. Scholarship Service and Character are our mottos. We have fun as we serve the community, respect the college and all it has to offer and uphold the principals of the club. This year Gamma Beta Phi is under new reign with fresh new officers ready to tackle the job of leading the growing society into the future. We are excited to see our campus and our society grow. To become a member one must possess the three principals mentioned above. A minimum G.P.A of 3.2 and remain in the top 20% of their class. Attending at least 75% of the meetings is required along with community services projects each semester. Members are awarded points for participating in community service, attending meetings and society events.
The Societies main event is the scholarship series, which many of you have probably seen advertised around the campus. The focus is on providing an opportunity for not only us students to enrich ourselves with knowledge from and experienced and knowledgeable speaker but to extend the opportunity to the public. This year Gamma Beta Phi plans to hold four scholarship events! This is double the events that we have currently been providing.
The society also plans to raise money by way of some sort of exciting fundraiser, such as a car wash. This year we raffled off some great prizes, and the money goes to our scholarship fund. This is an opportunity for the society to give back to the students of USCB that are making a conscious effort towards excellence. Scholarships are awarded based on merit to USCB students selected by a scholarship committee.
As you can see Gamma Beta Phi is an honored organization here on campus and would love to induct more members. Invitations are sent out before each semester and inductions are early in the semester. If you would like to become an honored member of Gamma Beta Phi, we would love to have you! Strive to meet our principals of Scholarship, Service and Character and watch your mailbox for an invitation. The society is here to enrich student lives with opportunities and recognition and to uphold our college and those who strive to make it the best place to be.
Interested in getting more information?
Contact Rena Kratky at lewisrl@uscb.edu.