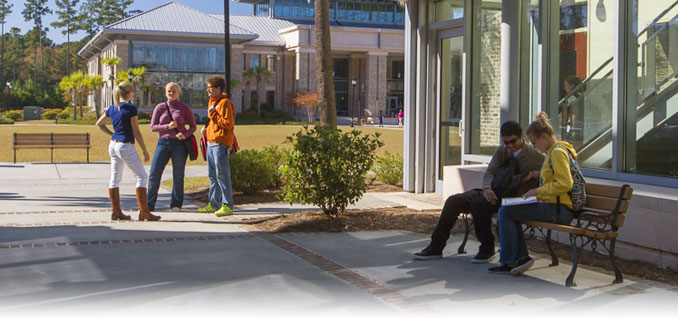 Sand Shark Scholars

Sand Shark Scholars is an invitation only residential bridge program designed for a selected group of freshmen. The Sand Shark Scholars Program is an academic transfer program between USC Beaufort and USC Salkehatchie. Any student who applies to USC Beaufort and qualifies for the program, will be sent an invitation to join and the next steps required to enroll.
This invitation-only program provides first-time college students with structure and comprehensive support from both institutions; it offers affordability, access, and the eventual opportunity to enroll at the University of South Carolina Beaufort. Sand Shark Scholars students enjoy great benefits while working to meet USC Beaufort's admissions requirements. Students are required to live on campus at USC Beaufort's Hilton-Head Gateway Campus, while completing their first year of courses through USC Salkehatchie.
The Sand Shark Scholars Program includes targeted academic advising, student support services, and a student life component — all of which are designed to help students succeed in meeting academic requirements for transferring to USC Beaufort. The successful collaboration between USC Beaufort and USC Salkehatchie allows students to make progress in their intended major during their freshman year while preparing to enroll at USC Beaufort beginning their sophomore year.
Sand Shark Scholars students:
must reside in a USC Beaufort residence hall
will have a USC Beaufort student ID
will have access to campus facilities
can participate in many programs and activities at both colleges
can play USC Beaufort intramural sports and utilize USC Beaufort's recreation center
can enjoy library privileges at USC Beaufort;
can obtain free tickets to USC Beaufort athletic events; attend concerts and cultural events; and much more!
Sand Shark Scholars extends from Fall 2019 through Spring 2020. To successfully complete the program, students must earn 30 transferable credit hours from USC Salkehatchie and earn at least a 2.0 GPA within the designated time frame.
For more information, please email the program