Empowering Businesses and Nonprofits to Achieve Their Vision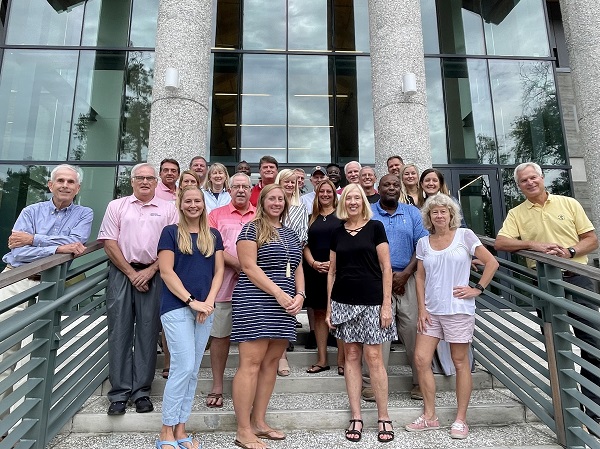 The Island Rec Center is one of many community groups working with USCB's Center for Strategic Planning to hone strategy and direction.


"The USCB Center for Strategic Planning helps us facilitate our annual strategy meetings. Their team has made the meetings informative, engaging, focused, and fun."
- Frank Soule, Executive Director, Hilton Head Island Recreation Association
Our Services
The University of South Carolina Beaufort, with campuses in Beaufort, Bluffton and on Hilton Head Island, provides planning services for businesses and organizations through its Center for Strategic Planning. These services include:
Working with you and your team to facilitate the development of your strategic plan through our proprietary, 3-step process** called Bridge to Better.

Facilitating your board meetings, workshops and retreats, enabling you to participate more fully in these settings and to focus on content and results.

Delivering the Entrepreneurial Mindset Profile® (emindsetprofile.com) to help leaders and entrepreneurs assess the degree to which they are utilizing an entrerepeneurial mindset and to provide resources to leverage their competitive edge.

** For more information about the 3-step process for Bridge to Better, click below to expand the information.
Step 1: Define Your Purpose and Ambitions
A clear Mission and Vision Statement is vital for a successful strategic plan. Our experts will closely collaborate with your leadership and stakeholders to enhance these statements, ensuring they form a strong foundation for your new strategic plan.
Step 2: Gather and Analyze Essential Information
Our team will work closely with your organization's leadership to grasp your current situation and aspirations. We will gather feedback from your internal team and external customers/clients through SWOT analysis and anonymous surveys. This valuable information will be summarized and used to develop your strategic plan.
Step 3: Plan for the Future in a Focused Retreat
We'll arrange a strategic planning retreat for your team to shape your business future. Held at one of USCB's campus locations, with catering by Aramark, the day will commence with a team-building exercise. Using the gathered information and our proven process, we'll collaboratively lay the foundation for your strategic plan's success.
Summary
After completing the three steps, we will provide you with a comprehensive summary of your strategic plan and supporting documentation. Engaging your team to define roles and ensure accountability will facilitate implementation.
Incorporating your strategic plan into your business operations offers numerous advantages. By aligning your actions with the plan, you will gain clarity on your priorities and optimize resource allocation. This alignment streamlines decision-making, allowing you to focus on activities directly contributing to your goals.
Your strategic plan acts as a guiding roadmap, leading you toward success and empowering you to make informed and strategic choices for your business.
To schedule a strategy or call for any of these services, please click the button below to view contact information for our facilitators.
Our Team
Facilitators
Ray Warco
Tom Lennox
Rod Casavant
Ray retired in 2019 as a Certified Public Accountant. He was in public practice for 49 years in both North and South Carolina, and served as a partner with local firms for 31 years prior to retirement. He graduated from Clarion University of Pennsylvania in 1970 (B.S. in Business Administration) and became certified in 1975. Community activities include serving on local boards, councils and committees, including the Hilton Head Island-Bluffton Chamber of Commerce Board (past chairman), the Hilton Head Hospital Board (past chairman), the Hilton Head Island Rescue Squad, the Elementary, Middle and High School Improvement Councils, (past Chairman), the Children's Center Board, the Volunteers in Medicine Board, the Hilton Head Council of Estate and Financial Planners Board, the Sea Pines Property Owners Finance Committee, and Community Association Institute of South Carolina. His current involvement with the community includes the Beaufort County School Board Citizens Led Oversight Committee, Ex officio member of the Hilton Head Island-Bluffton Chamber of Commerce, the Children's Center finance committee, the Greater Island Council Board, the Hilton Head Hospital Performance Improvement and Patient Safety Committee, and a member of the VanLandingham Rotary Club of Hilton Head Island.
Tom retired after a 40-year career in commercial banking and finance. Born and raised in Ohio, he graduated from The Ohio State University with a degree in Economics, and from the Stonier Graduate School of Banking at the University of Delaware. His entire banking career prior to coming to Hilton Head Island was in Pennsylvania with Mellon Bank, PNC, and Keystone Financial where he was a subsidiary bank president. In 1998 Tom left Keystone to start the Legacy Bank of Harrisburg where he grew it to $400 million in total assets, eight branches, and 120 employees. Legacy was acquired by FNB Corporation in 2006, and later that year Tom came to Hilton Head as President and CEO of Harbourside Community Bank. In Pennsylvania, Tom had been involved in numerous civic and charitable organizations including president of the local Chamber of Commerce, division chairman of the United Way, President of the Harrisburg, Pa. Art Association, and a member of the Pennsylvania Society. He served six years on the Hilton Head Island Planning Commission where he was its Vice Chairman, Chairman of its Capital Improvements Plan committee, and served on the Comprehensive Plan Committee. He was first elected to Hilton Head Island Town Council in 2014, re-elected in 2018, and now chairs its Finance and Administration Committee. He also represents the Town on the Southern Low Country Regional Board, is a member of the Greater Island Council, and the Governmental Affairs Committee of the Chamber of Commerce.
Rod is Chairman Emeritus, SCORE SC Lowcountry Chapter, where he led a team of 40+ certified business mentors (2017-22) supporting start-up businesses and in-business clients in Beaufort, Jasper, Hampton, and Colleton counties. He is a SCORE certified Business Mentor and on the National Advisory Council. SCORE is the nation's largest network of volunteer, expert business mentors dedicated to helping small businesses get off the ground, grow and achieve their goals. During his tenure the Chapter was recognized as South Carolina's District Chapter of the Year in 2018, 2019, 2021, and was selected as National Chapter of the Year in 2019. Rod had a 30+ year career with Eli Lilly & Company in multiple leadership roles with a track record of developing high performing teams focused on successful implementation of strategic and operational initiatives. He has been active in the Lowcountry community serving on various boards including Sandalwood Community Food Pantry and the Don Ryan Center for Innovation. Rod graduated with a BA in Chemistry, Summa Cum Laude, University of South Florida, and an MBA, Magna Cum Laude, Kellogg School of Management, Northwestern University.
Advisory Committee
Kimberly Dudas
Assistant Vice Chancellor for Academic Innovation (Interim)
Director of Campus Health Initiatives
Su Gibson
Assistant Director, USCB's Center for Event Management and Hospitality Training
Tom Henz, Chair
Vice President, Public Policy & Small Business
Hilton Head Island-Bluffton Chamber of Commerce
Adjunct Professor, USCB
Darla Kirchner
Owner, Kirchner Marketing
Adam Pegan
Chief Strategy Officer, Hilton Head Regional Healthcare
Charlie Stone
Senior Project Manager, Beaufort County Economic Development Corporation

Never Stop Learning
CSP Articles and Podcasts
Hilton Head Sun Articles
Bluffton Sun Articles
Vision Statements Podcasts
Read All About It: CSP in the News
Newsletters
Talk of the Town Video Segment
VanLandingham

Rotary Club