USCB's International Programs Committee (IPC) serves as the all-campus coordinating body that manages, organizes and coordinates global university activities. One of the most active and visible committees on campus, IPC is made up of faculty, staff and a student representative. The main IPC goal is to elevate and make vibrant USCB's international impact across academic and campus endeavors. The IPC sponsors International Week each year.
2022 International Week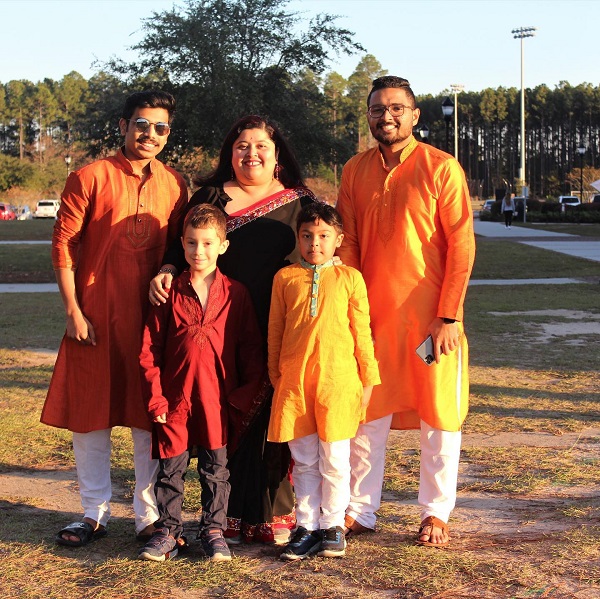 Monday, November 14, 2022
Kickoff! 1:30pm - 2:30pm | Hargray Room 156 and Virtual Live Teams
Welcome from Chancellor Al M. Panu
Keynote speakers: - Students Abroad: Elizabeth Erickson, Jules Duterte, Jarrett Kizer, Kaylee Aiken, Kari Dennis, Sherry Rodriguez, Jessica Garcia Zena
Faculty speakers: - Dr. Brian Canada, Dr. Edward D'Antonio, Dr. Jana Wheeler
Meeting ID: 276 535 074 767 Passcode: Yeh53d
Tuesday, November 15, 2022
All Day Virtual Competition
International Trivia. Win prizes!
Wednesday, November 16, 2022
International Cooking Demonstration Featuring Dr. Serkan Catma; Noon – 1pm | Virtual Live Teams
Back by popular request!
Introduction by Dr. Volkan Sevim.
Meeting ID: 235 093 191 707 Passcode: k6tAsd
Thursday, November 17, 2022
International Food Trucks & Aramark Street Food; 11:30am - 2pm | Bluffton Campus Center Parking Lot near SciTech
Eat delicious food from a variety of international trucks and Aramark!
Friday, November 18, 2022
Sharing Colors, Moving Boundaries; 12:30pm - 1pm | Bluffton Campus Lawn on the side of Hargray
- International music!
- Color-throwing event!
In collaboration with SGA
USCB Dining Services/Aramark will feature international selections all week. Check out the selections at https://uscbdining.campusdish.com/
Bluffton: Sand Bar, Hawk's Nest Starbucks, Finnegan's
Beaufort: Outtakes
Hilton Head Island: Caribou Coffee Ca

fé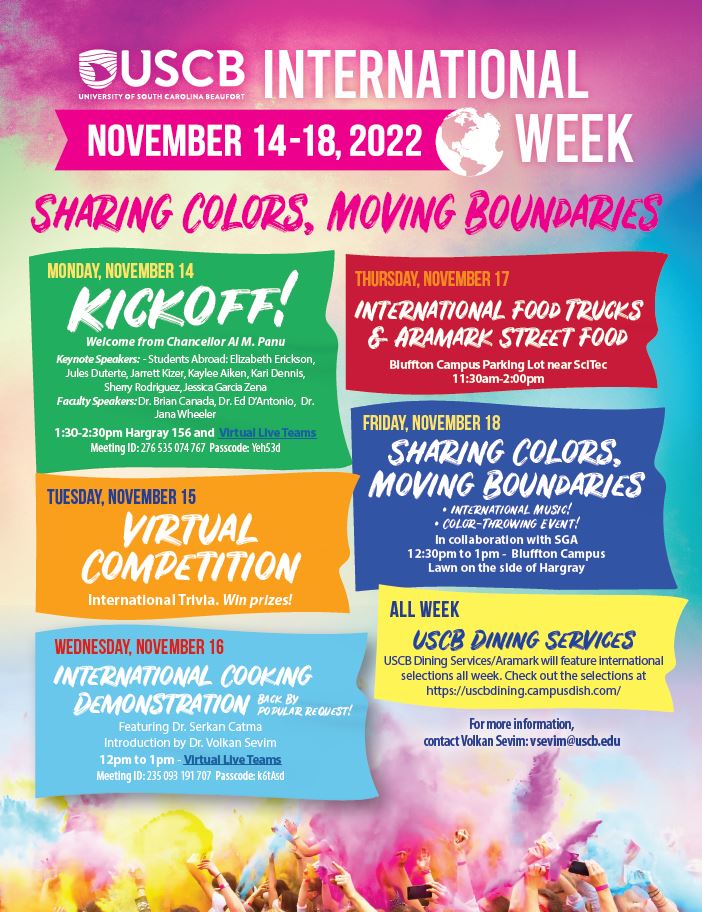 International Program Committee Newsletters
Read the Committee's most recent newsletters below:
Contact Us
Volkan Sevim, PhD
Chair, International Programs Committee
Associate Professor, Mathematics
Program Coordinator, Mathematics
Hargray Room 216
One University Boulevard
Bluffton, SC 29909