USCB's International Programs Committee (IPC) serves as the all-campus coordinating body that manages, organizes and coordinates global university activities. One of the most active and visible committees on campus, IPC is made up of faculty, staff and a student representative. The main IPC goal is to elevate and make vibrant USCB's international impact across academic and campus endeavors. The IPC sponsors International Week each year.
2023 International Week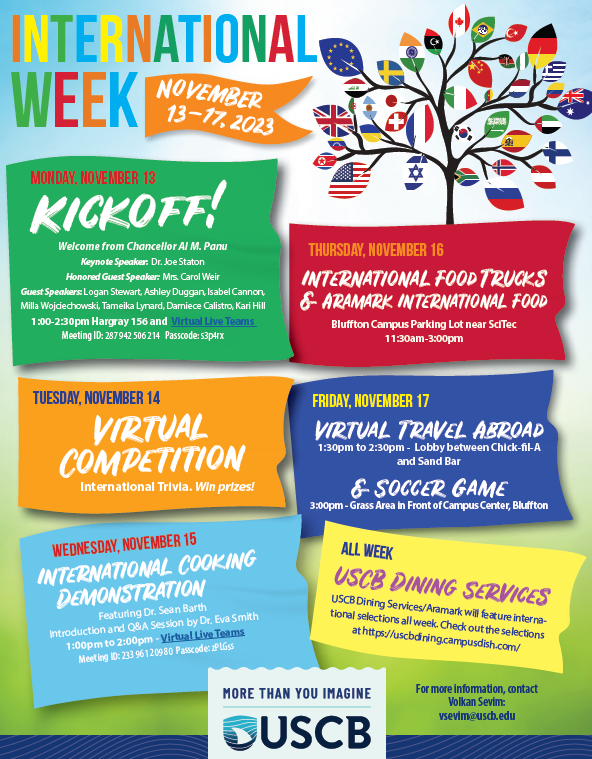 Monday, November 13, 2023
Kickoff! 1:00pm - 2:00pm | Hargray Room 156 and Virtual Live Teams Meeting
Welcome from Chancellor Al M. Panu
Keynote speaker: - Dr. Joe Staton
Honored guest speaker: Mrs. Carol Weir
Guest speakers: - Logan Stewart, Ashley Duggan, Isabel Cannon, Milla Wojciechowski, Tameika Lynard, Darniece Calistro, Kari Hill
Meeting ID: 287 942 506 214 Passcode: s3p4rx
Tuesday, November 14, 2023
All Day Virtual Competition
International Trivia. Win prizes!
Wednesday, November 15, 2023
International Cooking Demonstration Featuring Dr. Sean Barth; 1:00pm – 2:00pm | Virtual Live Teams Meeting
Introduction and Q&A session by Dr. Eva Smith.
Meeting ID: 233 961 209 80 Passcode: zPLGss
Thursday, November 16, 2023
International Food Trucks & Aramark International Food; 11:30am - 3:00pm | Bluffton Campus Center Parking Lot near SciTech
Eat delicious food from a variety of international food trucks and Aramark!
Friday, November 17, 2023
Virtual Travel Abroad (Makerspace); 1:30pm - 2:30pm | Lobby between Chick-fil-A and Sand Bar
Experience travel virtually at USCB!
Soccer Game; Starts at 3:00pm | Field Next to Bluffton Campus Recreation Building
Watch our Sand Sharks play a game of soccer!
USCB Dining Services/Aramark will feature international selections all week. Check out the selections at https://uscbdining.campusdish.com/
Bluffton: Sand Bar, Hawk's Nest Starbucks, Finnegan's
Beaufort: Outtakes
Hilton Head Island: Caribou Coffee Ca

fé
International Program Committee Newsletters
Read the Committee's most recent newsletters below:
Contact Us
Volkan Sevim, PhD
Chair, International Programs Committee
Associate Professor, Mathematics
Program Coordinator, Mathematics
Hargray Room 216
One University Boulevard
Bluffton, SC 29909