Give to Help USCB Students Triumph Over Tough Times
USCB's student emergency fund is available for all enrolled students who are experiencing an unexpected or emergency financial situation. The emergency fund is supported through donations from the community, faculty, staff and families of current students.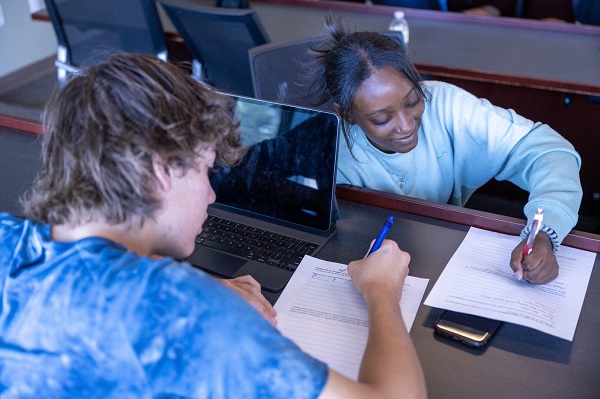 Recently, the USCB Student Emergency Fund helped Sand Sharks through these and other emergency grants:
$200 for emergency medical care

$150 for college expenses after primary income family member had emergency medical issue preventing work

$100 for internet to complete online classes after student unexpectedly lost job due to business closed
(Funds are not awarded for tuition or fees associated with courses)
Student Emergency Fund Application
Learn What the Fund Means to Students
These Sand Sharks and many more thank the generous donors to the USCB Student Emergency fund.
"The Student Emergency Aid I received lifted the weight off of my shoulders. USCB offered me the assistance I needed to succeed. I am happy to be part of a school that truly cares about its students."


Carmella, Class of 2023

"I am grateful for the support I received from the Student Emergency Aid. It allowed me to continue my summer internship experience. The Student Emergency Aid can help more students like me take advantage of opportunities to further our education, even in the face of adversity."
Emily, Class of 2023

"The student emergency aid has been a true help towards my success. This summer, if I had not received emergency aid I would not have been able to take the final courses I needed for the nursing program. Thank you, USCB!"
Jake, Class of 2024

"As someone who has always had to support myself financially, college has been a constant battle to balance work with school—trying to work enough to pay for my education without working so much that l don't have time for my classes. It might sound like an easy balance, but one income at 20 hours a week does nearly nothing towards paying my tuition. In addition to this, getting sick with COVID was a devastating blow because I had to be hospitalized and missed many hours of work and school. Receiving support from the Student Emergency Aid made the difference between the end of my college career and being able to continue."
Sarah, Class of 2025
Contact Us