"Untold Stories: Sharing Beaufort County's Rich and Diverse History"
Events & Registration | Videos | Event Calendar | Past Events | Literature Review | Social Media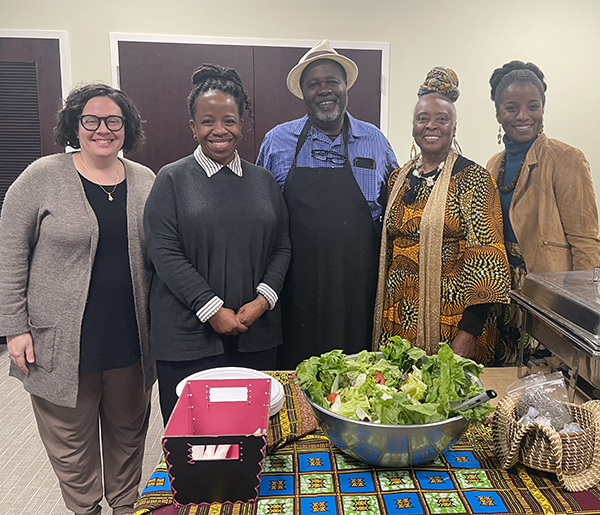 African American History Month Description

In 1986, the US Congress passed legislation that designated February as African American History Month, with three primary purposes: (1) raise awareness of African American history (2), acknowledge contributions of African Americans to the American story; and (3), stimulate interest in learning and apply lessons from African American history for all Americans. For the past six years, USCB has hosted a comprehensive series of events for our campus and Beaufort community members in celebration of African American History Month.
AAHM 2022 Events & Registration Links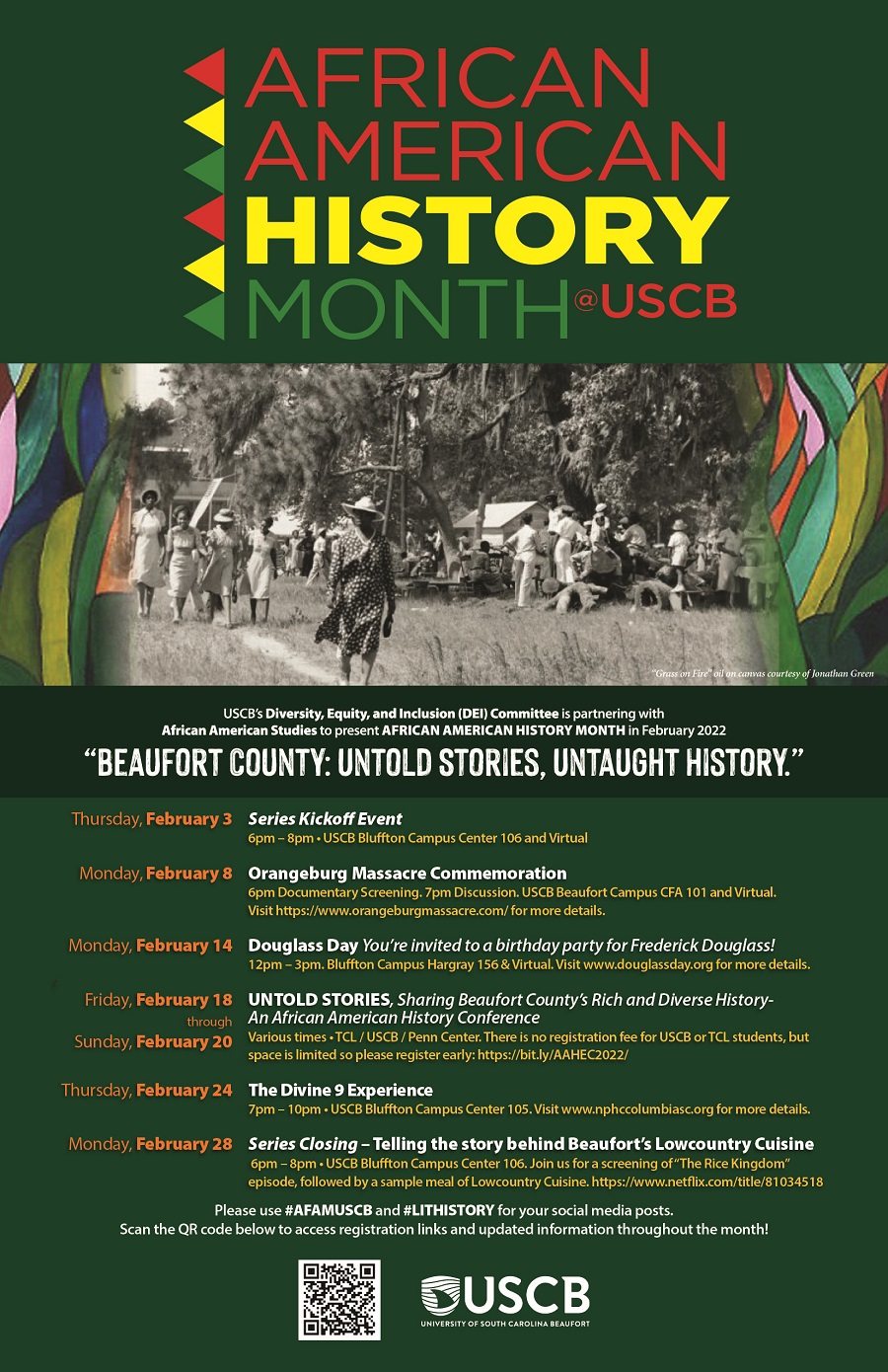 See below for events and registration links to events - be sure to check this site regularly for updates!
USCB's Diversity, Equity, and Inclusion (DEI) Committee is partnering with African American Studies to present African American History Month in February 2022 - "Beaufort County: Untold Stories."
Opening Ceremony/Kickoff Event 


February 3, 2022
6:00pm - 8:00pm
Bluffton Campus Center 106 & Virtual

Orangeburg Massacre Commemoration 


Tuesday, February 8, 2022
6:00pm Documentary Screening, 7:00pm Discussion
Beaufort Campus CFA 101 & Virtual

Join the Zoom meeting at https://us02web.zoom.us/j/84695792518

54 years later, who is telling the story of unarmed student protestors who were shot on the campus of South Carolina State University? Are we using the narrative to achieve justice? Join us for the documentary screening and discussion.

Visit The Orangeburg Massacre for more details.

Douglass Day
February 14, 2022
12:00pm - 3:00pm
Bluffton Campus Hargray 156

& Zoom (

Come and go as you please from noon-3pm):

https://us02web.zoom.us/j/82259866661?pwd=TmlXcW91bDVJZFV0by9rRVZEQlJsZz09

Meeting ID: 822 5986 6661 Passcode: 753973

You're invited to a birthday party for Frederick Douglass! This year we are featuring the Colored Conventions Project. Along with transcribing, help find the names of Black women who helped to lead the Colored Conventions. This is a part of a national project, co-hosted by DEI, OLLI and Writing Center at USCB.

Visit www.douglassday.org for more details.

African American

History

Education Conference
February 18, 2022 - February 20, 2022
Various Times
Untold Stories: Beaufort Black History Education Conference with Beaufort County Schools, Penn Center and Technical College of the Lowcountry 

Calling all students and future teachers: this is a unique opportunity for you to learn more about the rich and diverse African American History of Beaufort County. The conference is being hosted in partnership with Beaufort County Public Schools, Technical College of the Lowcountry, and Penn Center. There is no registration fee for USCB or TCL students, but space is limited so please register early.



The Divine 9 Experience
February 24, 2022
7:00pm - 10:00pm
Bluffton Campus Center 105

Nine historically African American fraternities and sororities have helped shape politics, entertainment, business, education and more for centuries. Hear some of their stories and celebrate together at this unique experience with music, refreshments, networking and service. This event is being hosted by the African American Student Association (AASA) in partnership with the National Pan-Hellenic Council (NPHC).

Visit www.nphccolumbiasc.org for more details.

Series Closing: Telling the Story Behind Beaufort's Lowcountry Cuisine
February 28, 2022
6:00pm - 8:00pm
Beaufort Campus CFA 106
Please use #AFAMUSCB and #LITHISTORY for your social media posts.
Videos for AAHM 2022 Events
Check back regularly for new videos from our events!
Description of Passport Partners
Cecil Williams South Carolina Civil Rights Museum
The Cecil Williams SC Civil Rights Museum honors a generation of people, Black and White, throughout the Palmetto State, who deserve to be remembered for their unselfish commitments and sacrifices. Together, they destroyed Jim Crow, demanded dignity and justice for all people, changed the Constitution, and inspired mankind. https://www.cecilwilliams.com/
Gullah Geechee Cultural Heritage Corridor Commission
The Gullah Geechee Cultural Heritage Corridor is a National Heritage Area managed by the Gullah Geechee Cultural Heritage Corridor Commission. The purpose of the Gullah Geechee Cultural Heritage Corridor NHA is to preserve, share and interpret the history, traditional cultural practices, heritage sites, and natural resources associated with Gullah Geechee people of coastal North Carolina, South Carolina, Georgia and Florida. https://gullahgeecheecorridor.org/
Morris Center for Lowcountry Heritage
Morris Center for Lowcountry Heritage is a non-profit organization with a goal of community engagement through educational programming and changing exhibits connected to the Lowcountry heritage. Our mission is to cultivate community experiences through education, preservation, and celebration of the region's rich history and culture. The Center advances education and engagement initiatives that preserve the Lowcountry's history and culture through programs, events, and exhibitions that inspire interest and evoke inquiry. https://www.morrisheritagecenter.org/
South Carolina Black Farmers Coalition
The SC Black Farmer Coalition is working to train, equip, and support existing, returning, and budding generations of Black farmers. We need Black-led training programs, land trusts, food hubs, policy advocates and funders to get the job done. https://www.scblackfarmers.com
South Carolina Nurses Association
The mission of the South Carolina Nurses Association is to represent all South Carolina registered nurses in a membership organization to promote and advocate the role of the registered nurse to improve health for all. Since 1907, South Carolina Nurses Association members have effectively influenced health care policy and practice. And today, no other organization is better prepared than the South Carolina Nurses Association, SCNA, to insist on and facilitate the changes needed to ensure quality health care in our state. https://www.scnurses.org
USCB Diversity & Inclusion Committee
The University of South Carolina Beaufort is joining higher education institutions across the country in focusing on diversity, equity, and inclusion. USCB's new initiative will develop and achieve equity goals, create a climate of respect, and cultivate a culture and physical environment that champions diversity and prioritizes inclusion. https://uscbeinformed.squarespace.com/blog/2020/11/24/uscb-to-focus-on-diversity-equity-and-inclusion
USCB Interdisciplinary Studies Program
Interdisciplinary Studies seeks to provide majors with a solid background in the arts and sciences while encouraging them to explore their own academic interests. USCB's Interdisciplinary Studies program is part of a national trend, engaging critical thinking and creativity while also assisting majors with their individual career goals. https://www.uscb.edu/academics/academic_departments/school-of-humanities-and-social-sciences/english-theater-interdisciplinary-studies/interdisciplinary_studies/
USCB Library
The mission of the USCB Library is to support the educational goals of the university as expressed in its programs and curriculum. USCB Library accomplishes its mission by teaching students and library patrons information literacy and research skills, building and maintaining comprehensive collections of physical and virtual resources, supporting research and creative scholarship, and providing services that support academic success. Equity of access to information is one of USCB Library's primary philosophies and is an underpinning in the field of librarianship. http://library.uscb.edu
USCB Student Government Association
The Student Government Association is to represent the concerns of students enrolled at the University of South Carolina at Beaufort. Our organization serves as the official voice of the students through our elected senators and executive board members. SGA is to serve as a liaison between the institution and the students. We want to encourage student participation in University governance and student activities to enhance the college experience. One of our main values is to commit to promoting cultural diversity through the acceptance and understanding of the needs of the student body and administration. Improving campus life for the students is an ongoing objective of SGA. https://www.uscb.edu/campuslife/student-development/student-life/sga/index.html
Past Events (photos and passports)
Past event photos: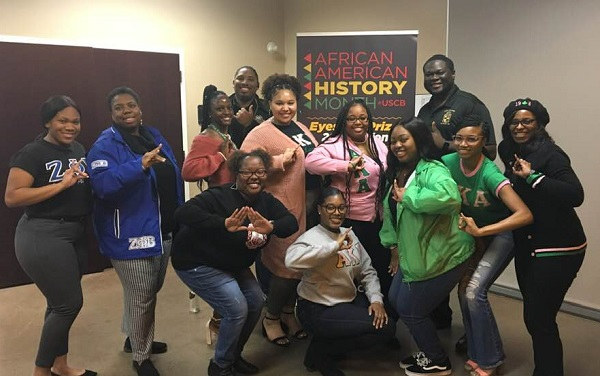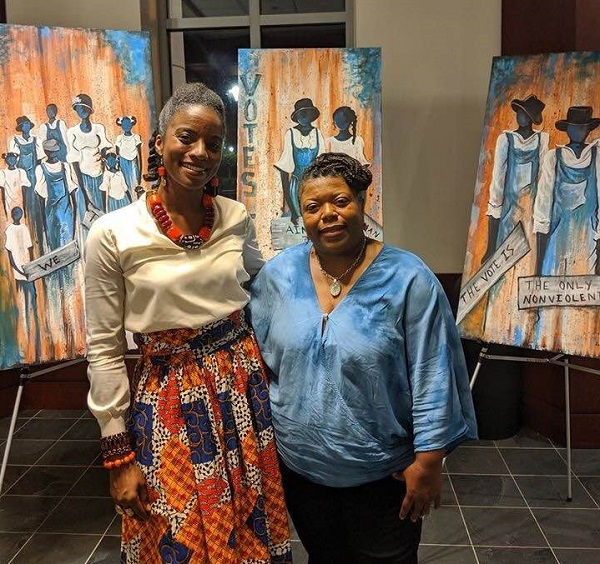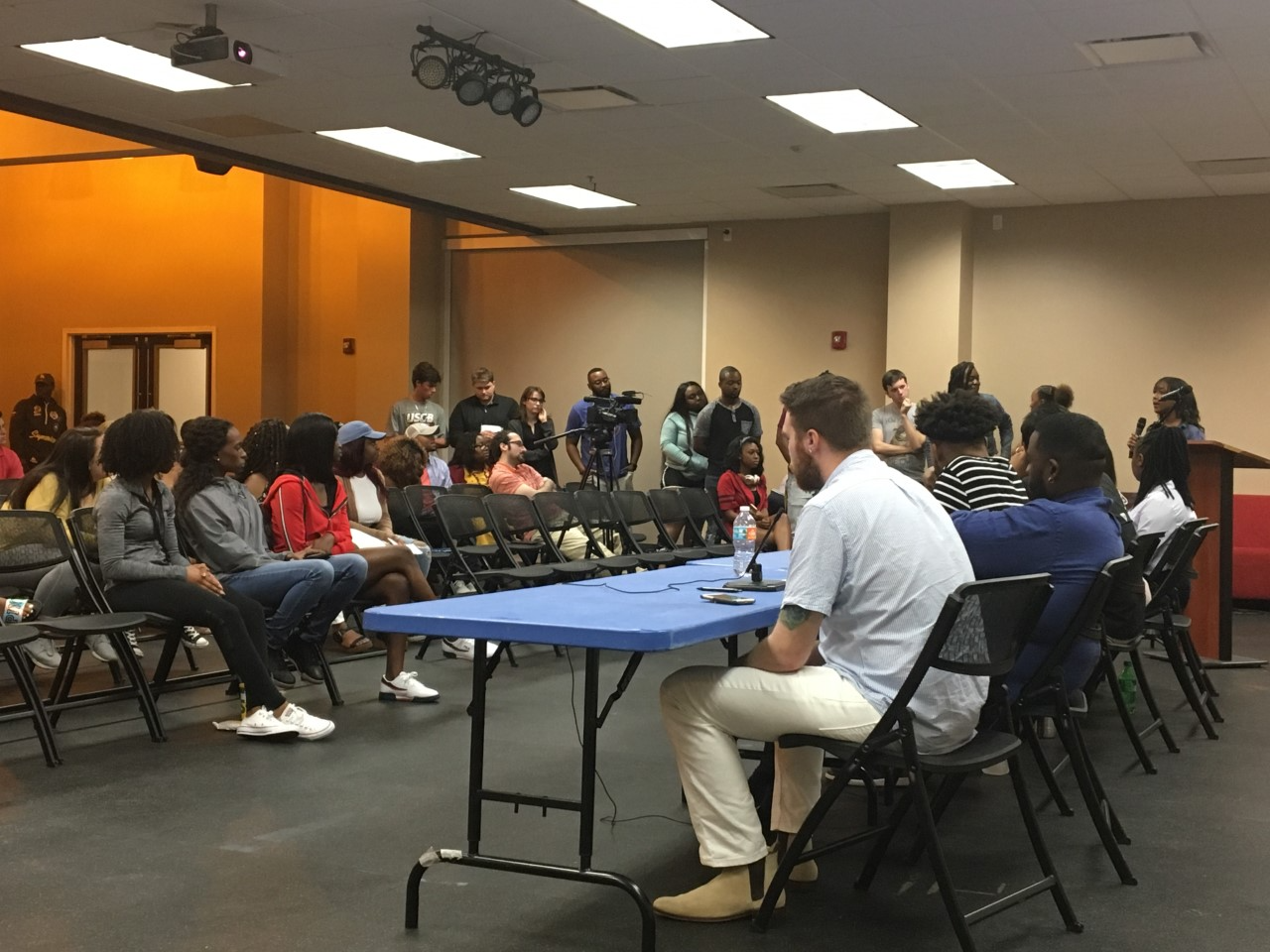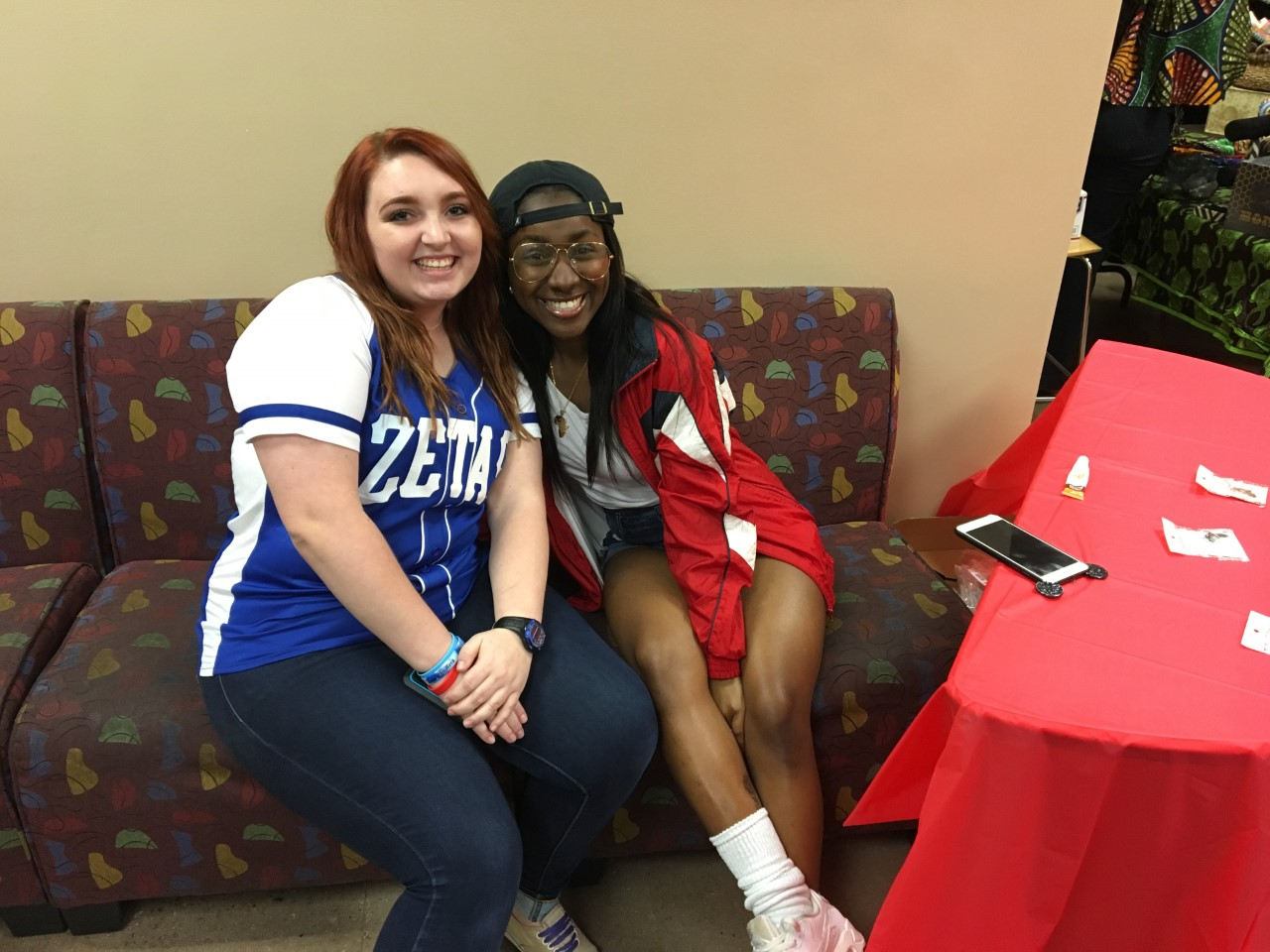 Literature Review
This guide features resources and exhibits that connect with the USCB 2021 African American History Month theme of Justice Beyond the Ballot Box. Click the link below for recommended readings, photos and descriptions of books on display at both library locations, exhibits, and more!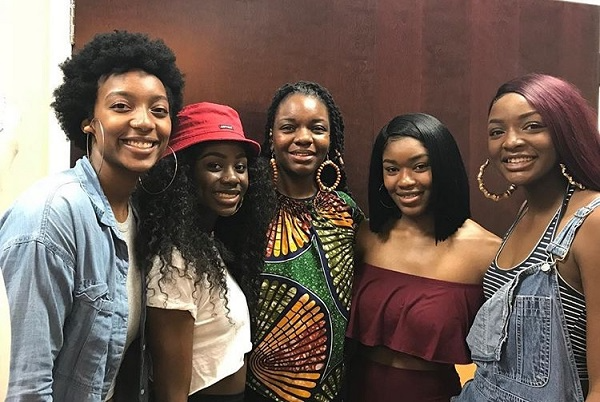 Social Media Links
Follow us!
Facebook: @UniversityofSouthCarolinaBeaufort
Twitter: @USCBeaufort
Instagram: @USCBeaufort
Also, please use the following hashtags on social media posts: #AFAMUSCB #OurStory